Regular price
$975.00 USD
Regular price
$1,299.90 USD
Sale price
$975.00 USD
Unit price
per
Sale
Sold out
Lean back, put your legs up, and enjoy premium, kinky luxury with this Adjustable Bondage Chair. Now you can position yourself or your partner at the angle that works perfectly for you both. This chair has a heavy duty frame that can handle up to 440 lbs (199 kg). With an adjustable backboard, you can sit them upright so they can watch your administrations of pleasure and pain or lay them back so their body relaxes and stretches out, their chest and belly exposed for teasing, sensation play and affectionate touch. Their leg height can also be adjusted for their comfort, as well; have their legs up high or lower them a bit if that works better. The whole chair is adjustable both for your comfort and theirs! As they sink into the plush, foam cushions covered with PVC leather, they'll be able to handle longer scenes and their body will have some padding to push into as you play with them roughly or deliver strong thrusts! To keep them in place, there are straps with ABS plastic buckles that easily secure their legs and chest. Whether it's to keep them safely bound or to keep them from writhing too much in pain or pleasure, these adjustable straps are easy to take on and off for quick changes. On the sides of the board as D-rings for wrist cuffs or other bondage accessories to clip to, as well! It's up to you how you'd like to play! Ask your partner to climb up into the chair and try it out. Adjust the leg height and the chair backboard angle for the, and adjust any other positions and heights for yourself, as well. Once you've got the settings out of the way, bind them with the straps and buckle them in. Tease and torment them with pleasure and pain while they writhe in agony and ecstasy! Use floggers, nipple clamps, ticklers, vibrators and more while they're bound and secured, ready to receive. If you're solo and want to enjoy it yourself, strap yourself in and enjoy the support that the leg boards offer so you can really enjoy being spread wide as you play with yourself in your sexy bondage chair! Take it up a notch and combine this with the Dicktator Extreme Sex Machine and get pounded while you're on your throne! To clean the chair after use, spray with a toy cleaner and use a soft cloth to wipe it clean. Avoid exposure to sunlight and heat to preserve the PVC faux leather material longer. Measurements: Overall: Length 40 inches x Width 21.5 inches x Height 57 inches Torso pad: 31 inches Long x 9.5 inches Wide Seat pad: 22 inches Long x 9.5 inches Wide Leg rests: 11 inches Long x 8 inches Wide Max weight limit 440 lbs Materials: Iron, wood, foam, PVC leather, nylon, ABS plastic Color: Black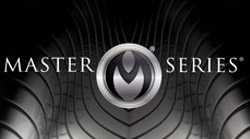 Lean back, put your legs up, and enjoy premium, kinky luxury with this Adjustable Bondage Chair. Now you can position yourself or your partner at the angle that works perfectly for you both. This chair has a heavy duty frame that can handle up to 440 lbs (199 kg). With an adjustable backboard, you can sit them upright so they can watch your administrations of pleasure and pain or lay them back so their body relaxes and stretches out, their chest and belly exposed for teasing, sensation play and affectionate touch. Their leg height can also be adjusted for their comfort, as well; have their legs up high or lower them a bit if that works better. The whole chair is adjustable both for your comfort and theirs! As they sink into the plush, foam cushions covered with PVC leather, they'll be able to handle longer scenes and their body will have some padding to push into as you play with them roughly or deliver strong thrusts! To keep them in place, there are straps with ABS plastic buckles that easily secure their legs and chest. Whether it's to keep them safely bound or to keep them from writhing too much in pain or pleasure, these adjustable straps are easy to take on and off for quick changes. On the sides of the board as D-rings for wrist cuffs or other bondage accessories to clip to, as well! It's up to you how you'd like to play!

Ask your partner to climb up into the chair and try it out. Adjust the leg height and the chair backboard angle for the, and adjust any other positions and heights for yourself, as well. Once you've got the settings out of the way, bind them with the straps and buckle them in. Tease and torment them with pleasure and pain while they writhe in agony and ecstasy! Use floggers, nipple clamps, ticklers, vibrators and more while they're bound and secured, ready to receive. If you're solo and want to enjoy it yourself, strap yourself in and enjoy the support that the leg boards offer so you can really enjoy being spread wide as you play with yourself in your sexy bondage chair! Take it up a notch and combine this with the Dicktator Extreme Sex Machine and get pounded while you're on your throne!

To clean the chair after use, spray with a toy cleaner and use a soft cloth to wipe it clean. Avoid exposure to sunlight and heat to preserve the PVC faux leather material longer.

Measurements: Overall: Length 40 inches x Width 21.5 inches x Height 57 inches Torso pad: 31 inches Long x 9.5 inches WideSeat pad: 22 inches Long x 9.5 inches WideLeg rests: 11 inches Long x 8 inches Wide

Max weight limit 440 lbs

Materials: Iron, wood, foam, PVC leather, nylon, ABS plastic

Color: Black


Key Features:
Adjustable Back Rest: Sit up or lean back with this adjustable back rest. Strap your partner in and move them up or down for the perfect angle!
Plush, Comfortable Pads: Perfect for long sessions, these plush pads are super comfortable and cushion against hard thrusting or movement.
Heavy Duty Frame: Get a frame that can handle rough play! This heavy duty frame is made of metal and wood so it holds up as a durable piece of furniture.
Quick Release Buckles: The ABS plastic buckles are easy to release for when you partner needs to sit up, readjust, or pause the scene.
D-Rings to Attach Bondage Accessories: Attach wrist cuffs or other bondage accessories to the D-rings to add another element to your play!
Compatible with the Dicktator Extreme Sex Machine: While this item is not included in purchase, this chair is perfectly paired with this satisfying sex machine!
View full details