Regular price
$35.95 USD
Sale price
$36.00 USD
Unit price
per
Sale
Sold out
Combine fantasy and sexy play with this shimmering, rainbow colored dildo. The ribbed texture along the shaft is designed to stimulate you with each thrust. The curved round tip massages your P-spot, A-spot or G-spot. The small, ribbed, nub at the base can give a little extra something to rub against once the dildo is fully inserted and can stimulate either your perineum or clitoris. Made to be soft and flexible, it is easy to use for both beginners and advanced users alike. Let it bend to your will and fill you up! Made out of quality silicone so it's phthalate-free, latex-free, non-porous and hypoallergenic. Use it only with water-based lubricants for best results. The wide base makes it compatible with most strapon harnesses so you can indulge in fantasy roleplay and pegging! Or go hands-free and enjoy the strong, suction cup base when you place it on any flat surface! To clean it, simply wash it with warm water and mild soap, then spray it with a toy cleaner and pat dry after rinsing it off. Keep out of direct sunlight and away from extreme heat. Your colorful dildo stands out amongst your toys, a playful and bright color asking you to have fun with your sexy self! Indulging in a little fantasy, you strap it on to a harness and let your partner lick your magical rod before slipping it inside of them. As they ride you, you enjoy the colors that come in and out of their beautiful body. Then you decide you want to taste the rainbow too, and switch them. You let it fill you up as you use a toy on yourself to add to the pleasure! Before you know it, you're gushing and wet. As you gasp and pant, you both curl up until you're ready for more! Curve Toys is known for their proprietary formulas used to create the best dildos and adult toys in the world. They manufacture their adult replica products with only body-friendly, phthalate-free, and top-grade materials. All products are inspected for superior functionality so that they represent the value, quality, and innovation from the factory to the bedroom. Staffed by experts with over 60 cumulative years in the adult manufacturing industry, Curve Toys is the perfect combination of passion, creativity and experience; in short, we know pleasure. Measurements: Length: 6.6 inches. Insertable Length: 6 inches. Widest Insertable Diameter: 1.3 inches. Materials: Silicone Color: Rainbow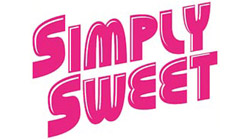 Combine fantasy and sexy play with this shimmering, rainbow colored dildo. The ribbed texture along the shaft is designed to stimulate you with each thrust. The curved round tip massages your P-spot, A-spot or G-spot. The small, ribbed, nub at the base can give a little extra something to rub against once the dildo is fully inserted and can stimulate either your perineum or clitoris. Made to be soft and flexible, it is easy to use for both beginners and advanced users alike. Let it bend to your will and fill you up! Made out of quality silicone so it's phthalate-free, latex-free, non-porous and hypoallergenic. Use it only with water-based lubricants for best results. The wide base makes it compatible with most strapon harnesses so you can indulge in fantasy roleplay and pegging! Or go hands-free and enjoy the strong, suction cup base when you place it on any flat surface! To clean it, simply wash it with warm water and mild soap, then spray it with a toy cleaner and pat dry after rinsing it off. Keep out of direct sunlight and away from extreme heat.

Your colorful dildo stands out amongst your toys, a playful and bright color asking you to have fun with your sexy self! Indulging in a little fantasy, you strap it on to a harness and let your partner lick your magical rod before slipping it inside of them. As they ride you, you enjoy the colors that come in and out of their beautiful body. Then you decide you want to taste the rainbow too, and switch them. You let it fill you up as you use a toy on yourself to add to the pleasure! Before you know it, you're gushing and wet. As you gasp and pant, you both curl up until you're ready for more!

Curve Toys is known for their proprietary formulas used to create the best dildos and adult toys in the world. They manufacture their adult replica products with only body-friendly, phthalate-free, and top-grade materials. All products are inspected for superior functionality so that they represent the value, quality, and innovation from the factory to the bedroom. Staffed by experts with over 60 cumulative years in the adult manufacturing industry, Curve Toys is the perfect combination of passion, creativity and experience; in short, we know pleasure.

Measurements: Length: 6.6 inches. Insertable Length: 6 inches. Widest Insertable Diameter: 1.3 inches.

Materials: Silicone

Color: Rainbow


Key Features:
Colorful Ribbed Dildo: Enjoy the ribbed texture of this soft and flexible, rainbow dildo! The curved end stimulates the G-spot or P-spot and the nub near the base helps to stimulate your clitoris or perineum!
Premium Silicone: Made out of quality silicone, it is phthalate-free, latex-free, non-porous and hypoallergenic. Use only with water-based lubricant.
Harness Compatible: The wide base is compatible with most strapon harnesses for fun, pegging play!
Suction Cup Base: Ride hands-free with the strong, suction cup base when placed on any flat surface.
View full details